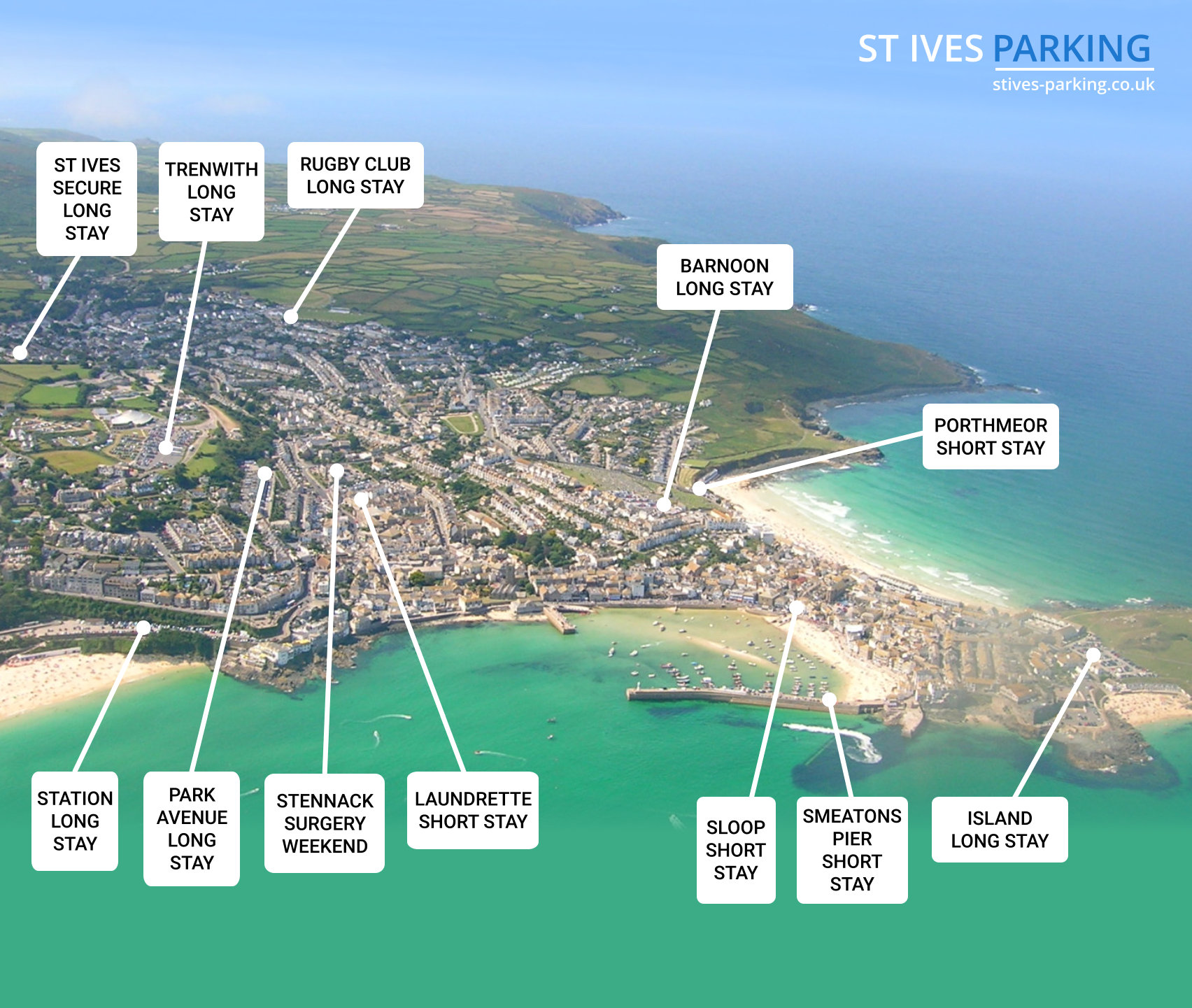 Planning on visiting St Ives and wanting to know where to park? You've come to the right place.
During peak times of the year, St Ives can be a tricky place to park. This site gives you details on all pay and display car parks along with parking changes.
Parking Advice
During peak holiday times St Ives can be tricky place to park. If you are visiting outside of a school holiday then you should be able to find parking in all car parks without too much difficulty.
Avoiding the Stress
During the summer months, all Cornwall Council car parks get very busy and you may be better off heading directly for the large Trenwith car park at the top of St Ives (signposted "1,000 spaces car park"). The St Ives Rugby Club carpark is also a good destination and has a regular bus service into town during peak times.
With narrow cobbled streets, St Ives town centre is not very car friendly. Unless you specifically want to park in the town area you should consider parking in the larger out-of-town car parks and catch a bus into the town.
The Best Time to Find Parking
If you do want to find parking close to the town centre, the best time is early on changeover days which are usually Friday or Saturday. Be warned that there are no places to queue for parking so you may be turned away from the car parks if others are waiting.
Reserved Parking
Unless your holiday accommodation comes with it's own reserved parking, please do not park in the reserved parking spaces located in the Cornwall Council car parks. There are a large number of reserved spaces in Barnoon long stay car park which are clearly marked as reserved and usually have a number painted on them. Local residents and businesses pay hefty charges to reserve these spaces and you will be fined by the council for unauthorised parking.
Porthgwidden car park (not to be confused with the Island car park which also overlooks Porthgwidden beach) contains 100% reserved spaces. Do not park here.
Parking Charges
Short Stay Parking
There are currently 3 Cornwall Council short stay car parks in St Ives with a maximum stay of 3 hours. They work out cheaper to park in if you are staying for up to 2 hours. If you are planning on staying for 3 hours, the long stay car parks work out cheaper.
There are also several privately owned car parks that can be used as short stay, but without the 3 hour limit.
Long Stay Parking
If you are staying longer than 3 hours, then head straight for Cornwall Council's long stay car parks, or several of the privately owned car parks. St Ives Rugby Club car park is your cheapest option and all proceeds go towards the running of the club.
Weekly Parking
Weekly parking tickets can be purchased from each of the Cornwall Concil long stay car parks using the JustPark mobile app, but are only valid for the car park you purchased it from. If you leave the car park during the week you are not guaranteed a parking space upon your return.
Weekly Rover Tickets are a great option for a if you are staying for 1+ week. They can be used in many of Cornwall Council's long stay car parks, so are useful if you plan on travelling outside of St Ives.
You can also purchase a JustPark multi-use ticket which allows you to purchase a block of credit which can be redeemed each time you park.